If you're on this page, chances are you want to be a commercial lawyer. It's a profession that offers interesting work, global opportunities and the chance to work on headlining deals.
However, commercial law is also one of the most competitive industries to enter. Thousands of candidates apply for a small number of vacation schemes and training contracts places each year. Only a handful secure training contracts.
Just look at the reported application to interview ratio for these firms: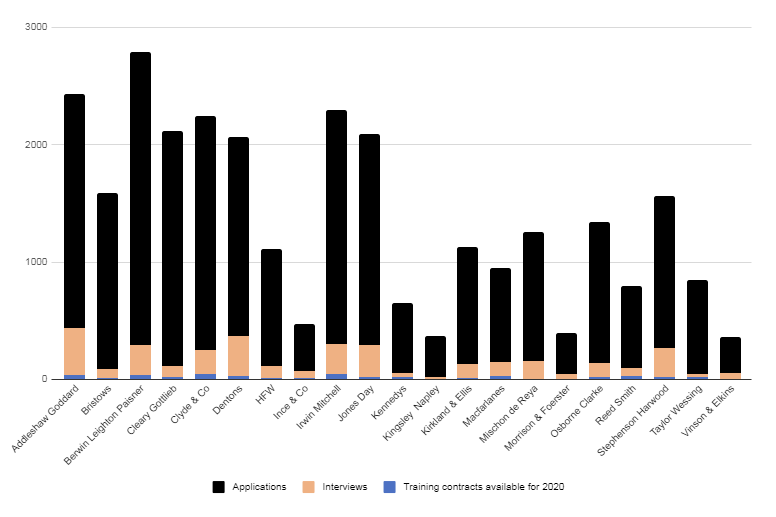 Data from Lex 100

TCLA Premium has been designed to turn good candidates into great candidates at all levels of the process. We detail how to write the top 1% of applications. We break down how you can excel in case studies and partner interviews. And we teach you the fundamentals of commercial awareness.
We're not here to give you the secret to securing a training contract because, quite frankly, there isn't one. But what we can do is share everything we've learned, having been through the process ourselves and having worked with thousands of candidates over the last few years (in 2018 alone, we reviewed over 500 applications!).
Contrary to what you might think at the moment, much of reaching the top 1% percent is about learning skills. Application writing, interview performance, debating commercial topics... they're just like any skill that can be developed through consistent, deliberate practice.

Now, at the moment, some of this information is already out there. But it's fragmented. That makes things easy to miss and hard to find. It means many aspiring lawyers don't know what makes a good application or how to answer challenging commercial interview questions. That's a huge problem because, for many firms, you only have one shot per cycle.
So, TCLA Premium offers high-level training and resources on teach candidates the skills they need to secure training contracts, all in one easily-accessible location.
It won't be for everyone and it's not a secret sauce: you can definitely still secure a training contract without TCLA Premium.
What it does do is combine the knowledge you need to know for your applications, interviews and assessment centres in a single, straightforward package. We've put hundreds and hundreds of hours into providing the best resources we can think of to help you secure a training contract.